FINANCIAL WELLNESS AT CORPORATES
BENEFITS OF FINANCIAL WELLNESS
PROGRAMS FOR CORPORATES

DECREASES DISTRACTIONS,
INCREASES PRODUCTIVITY AND
MAKES WORKERS MORE FOCUSED
Employees financially stressed spend
time dealing with these issues and
digress from work.

REDUCES ATTRITION
AND ABSENTEEISM
Employees are seen switching jobs for
minor change in remuneration, mainly
due to high lifestyle expenses and
excessive borrowings.

EMPLOYEES
WANT IT!
Confused about financial matters.
Need Unbiased information from
an agnostic firm without business
interest.

CORPORATE SEEN AS
CARING ABOUT EMPLOYEE WELLNESS
Commitment to a company is driven
by nature of benefits offered.

REDUCES
HEALTHCARE COSTS
Improves physical
and mental health.
Program Design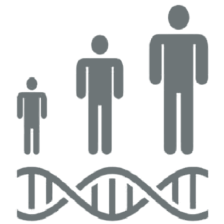 By Lifestage
Programs for inductees, junior, mid and senior staff.

Educational Programs
No vested sales interest or financial advisory services.

Continuous Learning
Resources like financial wellness portal, app & regular updates.
Key In person/ webinar programs

Financial awareness programs
Womantra & Fintelligence – smart investing
Cover details of various investments & borrowing
products and steps to start managing money.
Duration : 1.5 hours

Financial planning session
Creation & implementation of a financial
Plan with a excel based calculator.
For people > 35 years
Duration : 3 hours

Topic specific Programs
Tax Planning, Retirement Planning, Mutual Funds, Building Financial Security etc
Duration : 1.5 hours
E learning programs for Gen Z & millennials

One Hour animated Video
based e learning program – FinStart
10 modules of 5 minutes followed
by MCQs to test understanding.

Covers
How to save
Investment Options and tax planning
Smart borrowing

Helps kickstart financial life & be on the right path
Resources Provided

Email chat support

Monthly Social Engagement Plan

Financial well being portal
AND MUCH MORE
Financial Wellness Program Comparison Chart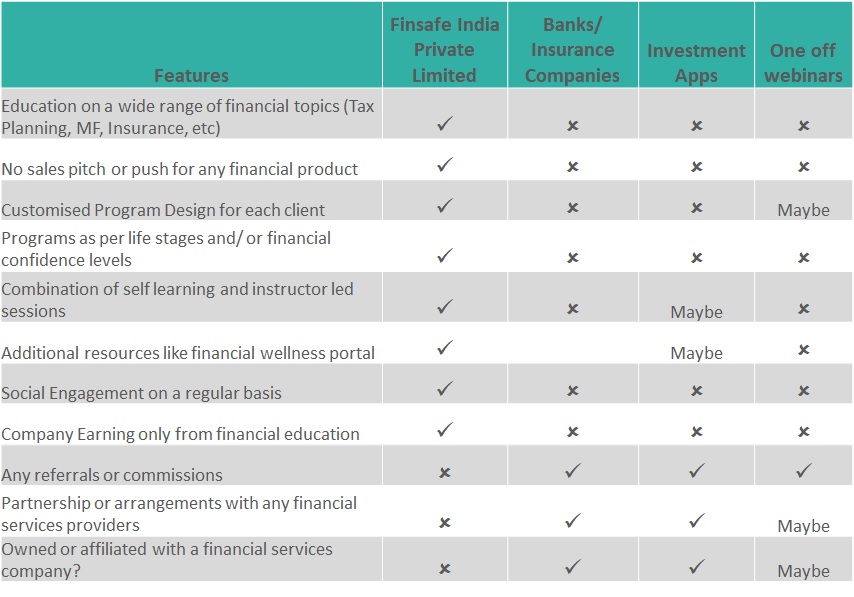 Why partnering with us on financial wellness
benefits you and your employees?