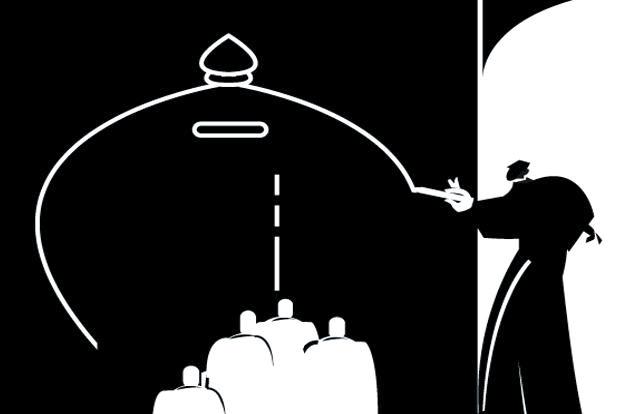 Recently, a movie of an Indian superstar saw huge marketing and unprecedented attention across media, specially on social platforms. I got forwards of receipts from cinema houses of bulk bookings made by companies. What surprised me was the fact that employers were ready to spend in lakhs and also give the day off, and that employees were ready to brave rain and traffic to watch a 3-hour movie.
I work with employee engagement teams (EE) in the course of my work to spread financial awareness. Most large companies have huge budgets towards EE and some of the activities include Indian Premier League tickets as prizes, having matches between companies, various talks, and, of course, celebrities are also called to increase the 'being funky' quotient.
However, when EEs run financial awareness programmes, the turnout is usually low. One human resources (HR) head mentioned to me that you do programmes on important issues like financial planning or mental health, and the teams have to push employees to attend; but if even a small time reality show star comes, a huge audience is in attendance. Typically, I find that in companies where the average employee age is above 30, employees are more serious about such programmes.
My view is that companies and the government need to make financial awareness mandatory, the way prevention of sexual harassment has been treated. An employee's financial well being is in the best interest of the employer as well.
The reason is simple. Looking at the financial habits of various age groups, people in 20s are in the mode of taking maximum loans to buy the latest clothes, accessories and gadgets. They revolve credit cards and don't bother about savings. These people would be stuck with huge debt and would not be able to get further loans easily given their credit scores.
I see people in their 30s spending on buying bigger assets with large loans and having a high-expenses lifestyle; again, saving little. They give little thought to their future, and often, don't have a plan to weather emergencies.
People in their 40s have different worries—how to pay for higher education of their children and plan for retirement. A recent study by HSBC found that seven out of 10 parents were willing to go into debt to fund their children's university education. About 65% parents in the survey said that paying for their child's education made it more difficult for them to keep up with other financial commitments.
So, how do these financial habits impact companies?
Attrition: It is a well known fact that employees switch jobs for small gains. This is especially true for sectors such as business process outsourcing (BPO), where the attrition rates are as high as 50%. Instead of focusing on making money work for them, youngsters working in BPOs tend to spend on clothes, gadgets, travel and pa rtying. In our sessions, we run a small non-essential expenses exercise. What we have found is that most participants don't know how much they are spending. But when they start jotting down the details, they realise they can save at least 25% of what they spend. Shouldn't companies include financial awareness as a part of induction?
Healthcare costs: With employees in 30s and 40s having financial worries, healthcare costs of companies are bound to be affected. Companies focus a lot on physical health programmes; why not on financial health as well, since this will impact their outgo on account of healthcare costs?
Productivity: Employees being distracted by their financial worries will finally lead to loss of productivity. But we have hardly seen companies conducting personal finance sessions for middle- and senior level employees. HR feels that these employees would already have advisers and, hence, do not need such sessions. However, the fact is that most senior level executives hardly have time to spend on their portfolios and would not mind a second opinion.
Employees dilly dally if asked to attend sessions, citing meetings, calls and other excuses, since money management is not in their list of priorities. This is simply because people feel they have enough to spend for their current needs. But what about future needs?
Companies can be more proactive with financial wellness programmes. Here's how.
Make it mandatory: The downside with this is that most programmes that are mandatory are run almost mechanically by employees, without much involvement.
Giving learning credits: This could help in generating more interest among the junior employees, and get them to participate in the programmes.
Promotion: HR could promote financial wellness as a cool and funky thing, the way marathons are promoted. Regular contests, quizzes and financial clinics should be held for employees.
Specific programmes: There should be targeted programmes for different bands in the organisation. Maybe getting the leadership team involved to lay emphasis on the benefits of financial wellness and show the way would be a good starting point.
Finally, with many junior level jobs getting automated, people wanting to retire and follow their dreams beyond 50, and jobs not easily available for people above 45 years, it is high time that employees think about being financially prepared. And employers can contribute to this by helping employees keep their costs down and optimising productivity. This will help reduce attrition and also increase employee loyalty.
Mrin Agarwal, financial educator; founder director, Finsafe India Pvt. Ltd; and co-founder, Womantra.
Original Source:
*Photo credit: Shyamal Banerjee/Mint
Source: Article written by Mrin Agarwal in Livemint on Aug 16, 2016
Original article link: https://www.livemint.com/Opinion/eRfPqc0TvYE3saJZtPpwoJ/Happy-workers-happy-companies.html?platform=hootsuite