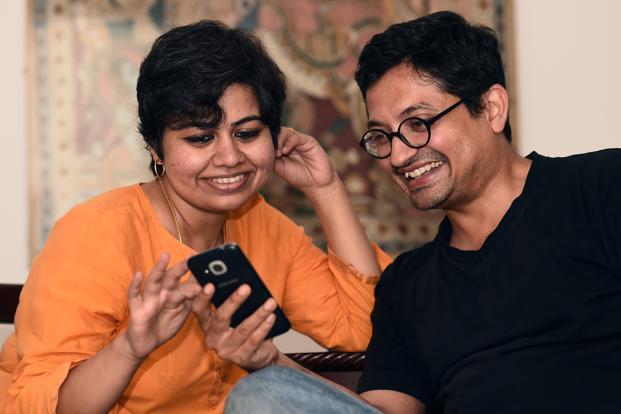 Vidyuth Sreenivasan, 39, and Jayshree Venkatesan, 35, are a 'dink' couple. Theirs is a double income household with no kids. Sreenivasan designs and sells hand block printed saris under the label Chaani, and Venkatesan is a financial inclusion consultant with Consultative Group to Assist the Poor (CGAP).
From a financial standpoint, the choice to not have children automatically meant the couple had more money to spend, but so far they have been conscious to not overstep their financial bounds. "Our incomes are not regular, so we have to make sure that there is regular cash flow every month. While this may seem like a conscious financial decision, we like to be judicious with money," said Sreenivasan.
This couple is not the norm, but an exception. According to some financial experts we spoke to, the fact that there is more money and lesser responsibility makes 'dink' families predisposed to overspending. Overstretching the budget, in fact, is the most common trap that many dink families fall into. The other mistakes would be to not think about long-term goals like retirement, not have an emergency fund and to not think about estate planning.
Overspending: According to Surya Bhatia, managing partner, Asset Managers, the biggest trap is to overspend. "Typically, a household with children or other dependants is able to save 20-30%. Couples with no kids have the potential to save way more than they spend, but often they save about 10-15% of their income," he said.
This over-indulgence is largely because couples with fewer financial responsibilities can afford to spend more. "If the expense before marriage was, say, x for each person, it doesn't become 2x after marriage. It becomes, say, 1.6x. This means there is surplus and a great opportunity for the couple to save. But I find that couples don't make the most of it," said Priya Sunder, director, PeakAlpha Investment Services Pvt. Ltd. "If you save early, your money gets the boost of compounding," she added.
Sreenivasan is aware of this. "I have been saving right from the time I started earning. I always make it a point to save 50% of my income because then my money gets more time to compound," he said.
The basics of financial planning don't change. You need to save before you spend. Make that your priority and spend according to a budget.
Wrong investments: The trap of buying wrong investment products or being over-exposed to a particular asset class is not the bane of dink families alone. Anyone can fall into the trap, but according to Mrin Agarwal, financial educator and founder director, Finsafe India Pvt. Ltd, dink families should not overexpose themselves to real estate. "Sometimes dink families may have more exposure to real estate than what they require. You must own the house you live in; a second investment in real estate is not recommended. Real estate is not liquid and you end up spending money to maintain it. You also need to think about why you need so many houses or plots. Instead, the funds should be put away in financial investments so that money is readily available to be used," she added.
Both Sreenivasan and Venkatesan have invested in real estate, but with an aim. "I bought my flat before marriage. I was living with my family and I wanted my own house. My wife bought her flat a few years back with an aim to earn some rental income," said Sreenivasan. They also have some land on which they plan to build a house and set up a block-printing unit.
Investments should be guided by goals and that should dictate asset allocation. Once you have the right mix of equity and debt, make sure you pick products according to your goals. For instance, investing in equity for a long-term goal like retirement is essential. For Sreenivasan, who invested mainly in fixed deposits, this was a new lesson. "To draw a food analogy, fixed deposits are like curd rice. They are comforting and they helped me a lot as I could take an overdraft for my business. But I know they are not long-term products, so over time, my exposure to fixed deposits has reduced. I now put my money in equity and balanced mutual funds," said Sreenivasan, who also invests in National Savings Certificates and Public Provident Fund.
Lack of a long-term vision: Having financial goals in mind also gives you a long-term vision on where you want to be financially some years down the line, but according to financial experts, many dink families lack this vision. Biju Dominic, a behavioural science expert and chief executive officer, FinalMile Consulting, said this is human tendency. "People in general don't have the ability to think too much into the future. But I find children to be the driving force that gets people to think and plan for the future," he said.
This means that dink families need to be make a conscious effort to plan for the long term. "Most dink couples tend to live in the present. I find most of them conditioned to believe that they will always be able to make money in the future so most of them end up with a high-end lifestyle," said Agarwal. It's important to understand that your earning capacity may not remain the same always. Suresh Sadagopan, founder, Ladder7 Financial Advisories, provides a reality check. "A lot of people who earn well, tend to spend equally well. What they forget is that they will not get the same income in the future. When we look at their lifestyle needs post-retirement we see a huge gap, because most in their working years focus on a lavish lifestyle without saving enough to make sure they are able to sustain it during retirement too," he said.
Retirement is a crucial long-term goal that you can't ignore. In fact, this is Venkatesan's biggest worry. "I am paranoid about retirement. I don't think kids are a great fallback option anyway but there is some sort of an assurance. In our case we know there is no back-up, so we need to make sure we are self-sufficient during the retirement years," she said. Venkatesan has a portfolio of mutual funds, shares, and real estate targeted for retirement.
Emergency funds: In the short term, the most important goal to achieve is to create an emergency fund. You may not have any financial dependants, but a job loss may set you back financially. Both Venkatesan and Sreenivasan primarily rely on fixed deposits and bank deposits for their emergency corpus. Venkatesan keeps three months' expenses in reserve.
Having insurance is just as important. While all couples may not need life insurance, health cover is a must.
Estate planning: Many may not have thought about it, but do you know who gets your money after your death? "When you have kids, in the absence of a Will, the law of the land takes over and you have rules around succession. But when you don't have children, it becomes important that you specify the manner in which your assets should be divided," said Sunder.
While Venkatesan is yet to plan this, Sreenivasan knows he wants to set up a charitable trust that will train rural artisans and also offer scholarships to students who excel in middle distance running.
Not having children can be financially liberating—you don't have to worry about saving for their education or other needs—but that should not translate into not having any financial goals or spending in excess. It just means you have more money to save and following the basics of financial planning will hold you in good stead.
Original Source:
*Photo credit: Sai Sen/ Mint
Source: Article written by Deepti Bhaskaran in Livemint on Sep 5, 2016
Original article link: https://www.livemint.com/Money/7ii94Yce62zA82Wtcm2HFM/Two-incomes-no-kids-Avoid-these-traps.html